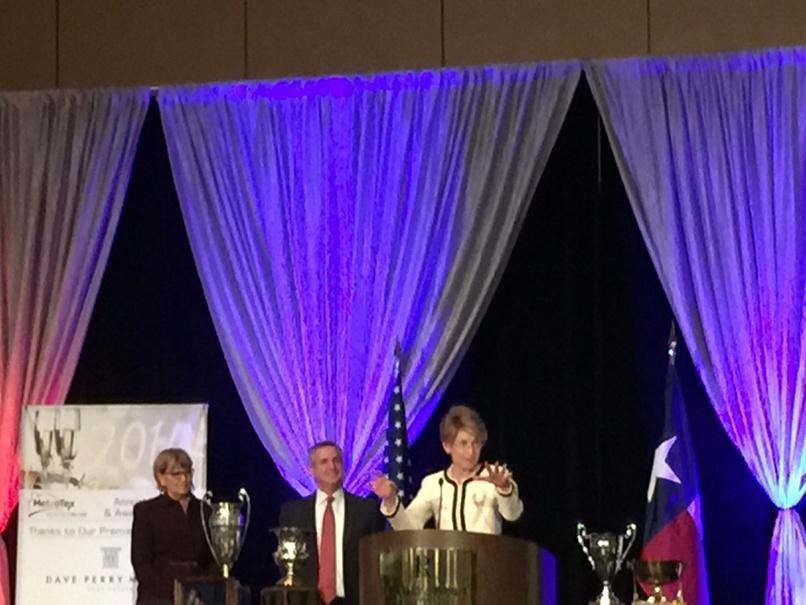 Laura Miller? Yes, Laura Miller. She was the distinguished guest who did the honor(s) of installing and swearing in adorable Steve Habgood as the 2015 President of the Metrotex Association of Realtors. Steve takes over from Becky Connatser, and both are agents with Dave Perry-Miller Uptown. In fact, I think Becky runs the joint.
Laura was there because she is a good friend of Steve and his partner. In fact, the Millers/Wolens lived across the street from Steve & company on Lausanne, if you recall, that house that took Laura forever to sell (was a tad bit overpriced) as she moved up to her current Preston Hollow estate on Dentwood, which she bought from the Topsy-Turvy creator, Tomima Edmark.
Where IS Tomima these days?
Vice president is Russell Berry of Nathan Grace, James Martin of DPM is secretary-treasurer, and there are 18 agents on the Metrotex board. It's quite an impressive list: Linda Argo, Joe Atkins, Carrie Hill, Joe Livingston, Sherri Baer, Eloise Eriksson Martin, Coffey Caesar, Cathy Mitchell, Linda Callicutt, Kathryn Piersall, Robert DeLeon, Theda Redwine, William Ferguson, Teresa Rutherford, Subhi Gharbieh, Lori Solecki, Sharon Harrison, and Terry Tremaine.
There were four major winners, Monday night, too: Pat Nagler of PrimeLending, a Plains Capital Company, won for Affiliate of the year. Joe Livingston of Century 21 Judge Fite won the Metrotex Ebby Halliday Community Service award, Tommy "Kerwin" Wooten received the Lois Hair Bernays Award, and the beautiful Coffey Caesar won the Easter Cups award for outstanding. Coffey and I bonded at the afterpartyy, after she pinned up my "peaking" bodice. Yes, Candy was having a little wardrobe malfunction almost a la Janet Jackson. Coffey was a professional model for 25 years before she became a Realtor — in fact, she still models. She told me she has worn many a dress with pins holding it together. Though she sells mostly in DeSoto, Duncanville and the southern sector of Dallas, she sells all over town and I am dying to get to know this beautiful lady better.
t
Lisa Peters of Caliber Mortgage with Becky
Tommy "Kerwin" Wooten with Jeff Lindigrin of Great Western Mortgage