April and May are traditionally the best months for home tours, because that's when houses and gardens look the best! As we have been telling you, there are some fantastic tours coming up starting right this weekend! Stay tuned to CandysDirt.com for all the dirt on Dallas home tours including ticket giveaways. Since homes are just about my most favorite thing in the world, I support ALL of them: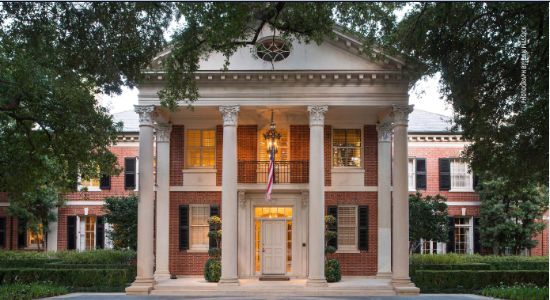 Park Cities Historic and Preservation Society, April 12
Four Park Cities homes will be on tour, including 4800 Preston Road, the home of Harlan Crow and his famous library with one of the world's largest collections of Americana, plus Gary Cunningham's famous Pump House located on Willow Wood. Tickets are $20 in advance, and $25 at the door.

State Thomas Historic District Spring Architectural Tour, April 13
Highland Park on Saturday, on Sunday you can tour one of Dallas' oldest neighborhoods closer to downtown, filled with pastel-colored historical homes, and a discussion led by three experts. This tour not only includes original residences, but also some remodeled former homes. The afternoon will begin at Hotel ZaZa Art House and Social Gallery with refreshments and a symposium.  The discussion will be led by author Virginia McAlester, author Judy Smith Hearst and State-Thomas resident Patricia Meadows.  They will discuss the timeline of the neighborhoods transition to an historic district.  You will be intrigued by the preservation efforts of this urban oasis in the hub of the city.
White Rock Home Tour, April 26 and 27
Cannot miss this one: modern homes of Lakewood unite. There's  a speaker reception at Design Within Reach on April 25, and then meet the architects at each of the homes  on the tour.
Tickets are $15 in advance and $20 at the door, and all proceeds benefit the Victor H. Hexter Elementary School.
Hollywood Heights Home Tour: April 26 and 27
The Hollywood Santa Monica Neighborhood Association has selected five historic homes that will be showcased during its 23rd annual Home Tour. The art and architecture-filled weekend, which includes an art fair and auction party, benefits the Lindsley Park Community School, J.L. Long Middle School and REAL School Gardens.
The Home Tour will run from noon until 5:00 PM on Saturday April 26 and Sunday April 27. Tickets are available for $15 at www.hsmna.org, at Curiosities (2025 Abrams Parkway) beginning April 1, or during the event at Lindsley Park, located at the corner of Lindsley Avenue and Tenison Memorial Drive.
Sunday's tour will be accompanied by Art in the Park, a family-oriented art exhibit and fair that will feature local artists and vendors, fun entertainment and art activities for kids, and food and drink for the whole family from some of Dallas' best food trucks. Also available will be a guided walking tour of the neighborhood's unique historical sites departing at 1:30 PM. Both the tour and Art in the Park are free to all, and do not require a ticket to the home
Turtle Creek Home Tour, April 27
Five residences, including a home designed by Dallas architect Lionel Morrison, will be on display for an afternoon. Those who purchase their tickets early enough can also gain access to the post-tour reception atop The Mayfair at Turtle Creek. (You don't ever blow a chance to see this place.)  Tickets are $60 for non-Turtle Creek Association members and there will be shuttles available to drive you from stop to stop.